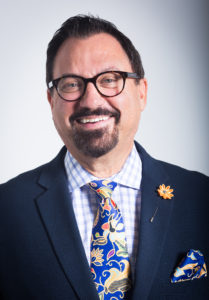 B3 Strategies Chief Executive Officer, Russell D. Smoldon, has over 35 years of public policy experience focused on energy, water, taxation, environmental, health care and economic development issues. The relationships he has with government officials, legislators and the business community in Arizona, across the country and at the federal level in Washington, D.C. are extensive.
A former legislative assistant to Congressman Thomas S. Foley, Russell has been involved with nearly every public policy issue affecting Arizona over the past 30 years in his previous role as Manager of Government Relations with Salt River Project (SRP) in Phoenix, Arizona. Prior to joining SRP, he served as the government relations representative for Idaho and Montana with Spokane, Washington-based Avista Corporation.
As a respected leader in the Phoenix business community, Russell serves on the board of the Arizona Tax Research Association (ATRA) and on the board of CrossRoads. Russell has previously served with a variety of organizations in leadership positions including the Western Business Roundtable, the Greater Phoenix Urban League, the American Legislative Exchange Council and the National Conference of State Legislators' Advisory Council on Energy and the National Tax Partnership. He has also previously served as a member of the Arizona Supreme Court's Child Support Guidelines and Domestic Relations Committees and the Arizona Highway Users' Association, and has assisted numerous non-profit organizations, including the Arizona Trails Association.
Russell received a B.A. in Political Science and History from Gonzaga University. While attending Gonzaga University School of Law, he was recruited for a position with Avista. While at Avista, he became the youngest utility lobbyist in the country at the time. Russell also completed a number of post-graduate courses in Business and Political Science at Eastern Washington University before being recruited by SRP and moving to Arizona. He has received numerous awards including the Greater Phoenix Urban League's Whitney M. Young Jr. Award which recognizes an individual who exhibits genuine concern for the community in promoting and celebrating diversity, racial harmony, and social and economic equality, the Arizona Commerce Authority's 2016 Data Center Champion, a many time nominee for The Arizona Capitol Times Best of the Capitol – Best Lobbyist, and a three-time winner of the Best of the Capitol – Best Dressed.
Russell has a personal passion for public policy, economics and American history. He is a prolific reader and golfer. Mr. Smoldon is married to Michelle January and lives with between six and a dozen "foster" dogs in a Historic District in downtown Phoenix. His son Nick and daughter-in-law Emily are both graduates from Gonzaga University. His daughter Barrett is a graduate from Kansas State and now lives in Phoenix with her two dogs.