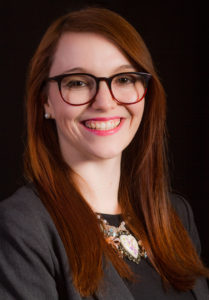 B3 Strategies Government Relation Manager, Emily Rice has five years of public policy experience in Arizona. After joining B3 as a Government Relations Assistant in September 2014, Emily was promoted to Manager in January 2018.
Emily's specializations include research support, writing, tracking and monitoring legislation, event organization and execution, and client development and support. In addition to her work at B3, Emily serves as the Secretary for the Arizona Municipal Power Users Association.
Emily graduated magna cum laude from Gonzaga University with a Bachelor of Arts in English and History in 2013. While in school, Emily was the editor of the student scholarly journal, Charter, led the student improvisational theater group, and worked while maintaining a full credit load. Prior to joining B3 Strategies, Emily worked at GameTruck Licensing, LLC as the Communications Manager, where she handled social media, communications, and the potential franchisee discovery process.
Emily and her husband Nick have lived in Phoenix since 2013 and recently added Tater to their family. In her spare time, Emily enjoys reading science fiction, baking and cooking, and hosting board game night with friends.