Do you use the internet?
That's a trick question, considering you are reading this on a web based blog. There are an estimated 3 billion internet users in the world, approximately 40% of the world population. In the United States, 87% of the population uses the internet.
Data centers make it possible for 3 billion people to store, access, and move data around on computers, phones, smart-phones, tablets, GPS systems, and various other computerized devices that people utilize in their day to day lives.
In the last few years, the Phoenix metropolitan area has become a hotbed for data center growth. A 2009 Forbes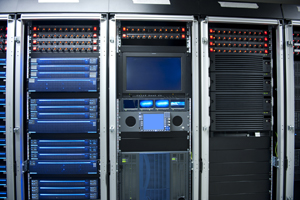 interview with Anthony Wanger introduced the ideas of Phoenix's reliable power and low weather risks as two of the top reasons companies like JP Morgan Chase, United Airlines, Bank of America, State Farm Insurance, and Toyota have housed their data centers in the Valley of the Sun. In 2010, The Arizona Republic reported that Phoenix was attractive to the growing industry due to its "safe location and cheap and redundant power sources." Arizona is also less prone to large natural disasters, such as earthquakes and snowstorms.
Arizona's data centers provide valuable job growth for Arizonans. This job growth happens on two fronts: direct jobs and indirect jobs. Employment at a data center is well-paid. For every "innovation job," such as a data center job, five in-direct jobs appear in supporting service industries, according to US Berkeley Professor and economist Enrico Moretti. Jones Lang LaSalle, DCS Group estimated that a single $115 million data center facility would create 925 jobs directly, indirectly, and through construction.
Phoenix is currently one of the top cities in the United States for data center growth, with nearly 30 data centers in the Phoenix area housing more than 100 companies.
Data centers are crucial to the development of a 21st century economy, and are a powerful force for job development and economic growth. Additionally, data centers are able to utilize eyesore buildings, such as abandoned shopping malls, and turn them into engines of economic good, such as 365 Data Centers' location in Park Central Mall in Phoenix.
What's more, data centers are growing. In a 2012 survey, Digital Realty Trust, through the independent company Campos Research and Analysis, found that 98% of survey respondents indicated plans to expand their data centers by 2014. With the number of internet users growing every minute, data centers will not be going away.
While Arizona's energy and weather make for an ideal development site for further data center growth, the Arizona Data Center Coalition (ADCC) felt that Arizona's tax incentives for data center development were lacking compared to other states. In 2013, the newly formed ADCC and B3 Strategies helped pass a tax incentive for data center development and sustainable redevelopment projects. While this was a huge win for data center growth, there is more to be done as the Arizona Commerce Authority and Department of Revenue work out implementing the passed legislation.
By continuing its commitment to improve its economic climate, Arizona can become one of the most ideal locations in the country to develop and grow data centers. If you're interested in what the ADCC is doing to build Arizona into the best environment for data center growth, contact us at erice@b3strategies.com.